United Energy
United Energy (UE) is a major electricity and heat producer in the northern Bohemian region. It operates a CHP plant in Komořany (near the town of Most) with a total installed electrical capacity of 239 MWe and a thermal capacity of 1,076 MWt. It supplies thermal energy to 35,000 flats in Most and Litvínov, and also to industrial enterprises, schools, health facilities, offices and various institutions.
United Energy – district heating
UNITED ENERGY distributes the thermal energy that it produces to Most and Litvínov via a hot-water network of the district heating system; 
Most of the thermal energy is sold to the secondary networks of third-party heat distributors, through which the following are supplied:
Households in both towns (some 34,000) = 60% of thermal energy consumption
Civic amenities (kindergartens, schools, health facilities, offices, etc.)
= 30% of thermal energy consumption 
Production and manufacturing companies = 10% of thermal energy consumption

The length of the heat distribution network totals more than 100 km of distribution pipes.
THERMAL ENERGY CONSUMPTION FROM SECONDARY NETWORKS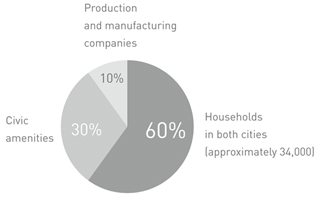 United Energy's heat prices for 2012
UNITED ENERGY's heat prices in 2012: CZK 321.94/GJ (without VAT) = the heat price paid by customers taking heat from the Komořany CHP plant of Severočeská teplárenská, a.s. in 2012;
Price higher by 3.9% compared with last year:

The y/y heat price hike is mainly due to the higher costs of fuel and the expected decline in heat sales caused by customers' austerity measures;
The price for final customers is also influenced by the increase in the VAT rate from 10% to 14%;

The price of heat from Severočeská teplárenská, a.s. is the primary price for which heat is bought by distribution companies in Most and Litvínov.
More:
External links:
Other important links: